Basted fittings at our Shanghai boutique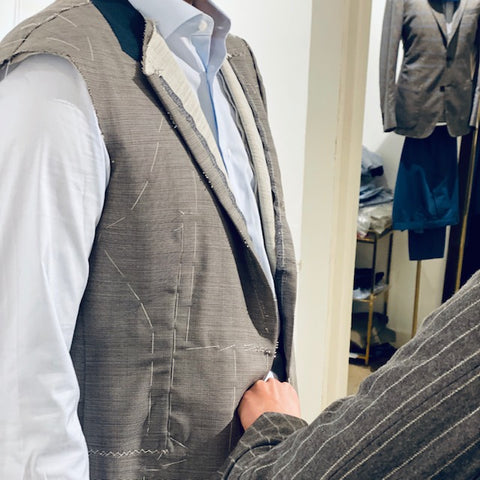 For many years now, we conduct basted (« toile » in French) fittings within our made to measure program. These pieces are made in substitute fabrics which give us freedom and flexibility in the making of every pattern.
Our job as tailors is to make unique patterns for each of our clients based on their body measurements, natural postures, and of course on their preferences. The basted fitting is ready ten days after initial consultation, and the final suit will be ready for fitting 3 weeks later. We usually then will have one final fitting the following week after to perfect all the details. The total process takes about 5 weeks.
In our pre-Covid world (remember when?) basted fittings were an ideal solution for our international clients travelling to Shanghai for a week or more. We would do basted fittings before their departure to secure the fit and then ship out their final suits abroad a few weeks later. For these traveling international clients, pricing excludes second and potential third fittings, so that any alterations needed can be done in their respective home countries.
We are hopeful those days will be back soon!