Why A Blue Wool Suit Is All You Need
If you were to only have one suit, I would highly recommend a blue suit, not a dark navy that tends to be too formal, but an in-between blue that perfectly lies in between casual and formal. I would opt for a plain color, rather than a patterned one like stripes or checks, so that you would have more versatility in mixing and matching it with other things. However, I would also suggest a mélange of different blue yarns, as opposed to a block color blue, so that there is depth to the cloth like the example below.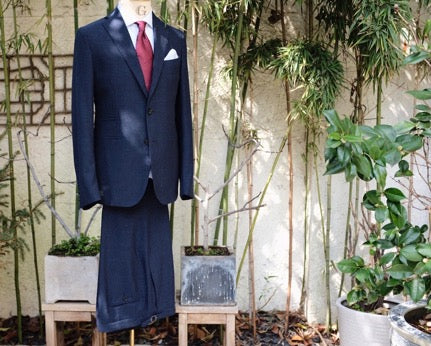 I would consider a wool fabric, as it is the best choice for year-round use, and I would choose a plain weave over a twill, as it will look better when you wear just the blazer or just the trousers paired with other garments. It has a matte look rather than shiny one, which is more versatile.
Most British mills such as Dugdale, Hardy Minis, Fox Brothers and Holland & Sherry have great options for durable plain weave wools, which will work year-round and look good as separates. We particularly appreciate Fresco, Aires, Tropical, and Fox Air from those mills. They are hardwearing, breathable, and have a good wrinkle resistance, so the suit travels very well and always look at its best, even after a long day of work or a long flight. Do not go above Super 110s for this "do-it-all" suit. The thinner and more expensive fibers such as Super 150s are excellent for events such as weddings or board meetings but they will require special care and attention, they are for those who have already multiple suits and can rotate.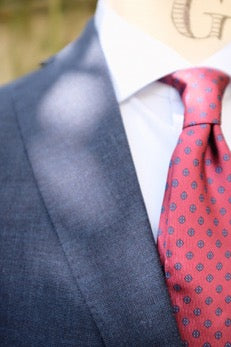 As the saying goes, "BUY LESS, BUT BUY THE BEST". We find that the British mills supply great cloths, which are durable, and even get a nice patina over time. The hand feel may first appear rough compared to the soft and supple Italian fabrics, but we think it will assure a better drape and be more forgiving. It will be on your side in all occasions for a great number of years.
如果你只有一套西装,我强烈推荐蓝色西装,不是倾向于过于正式的深色海军蓝,而是完美介于休闲和正式之间的介于两者之间的蓝色。我会选择一个普通的颜色,而不是一个像条纹或格子图案,这样你会有更多的通用性,在混合和匹配它与其他东西。然而,我也建议一个不同的蓝色纱线混合,而不是块颜色的蓝色,这样就有深度的布一样,下面的例子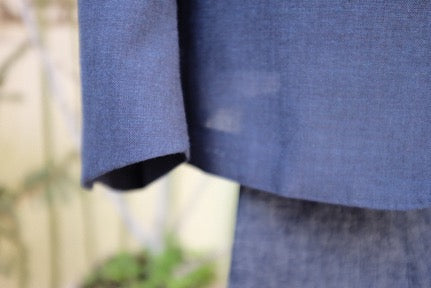 我会考虑羊毛面料,因为它是全年使用的最佳选择,我会选择平纹而不是斜纹,因为当你只穿西装外套或裤子与其他服装搭配时会更好看。它有一个哑光的外观,而不是闪亮的 .
大部分英国工厂就像杜格代尔,哈代迷你,福克斯兄弟和荷兰&雪利都有很好的耐用平纹羊毛的选择,这将全年工作,看起来不错。我们特别欣赏这些工厂的湿壁画,空气,热带和福克斯空气。它们耐磨、透气,而且抗皱性好,所以这套西装穿起来非常顺滑,即使是在长时间的工作或长途飞行后,也能一直保持最佳状态。不要去超 110S 以上的这种"做的一切"的西装。更薄和更昂贵的纤维,如超级 150S 是非常好的,如婚礼或董事会会议,但他们需要特别的照顾和注意,他们是为那些已经有多套西装,可以旋转。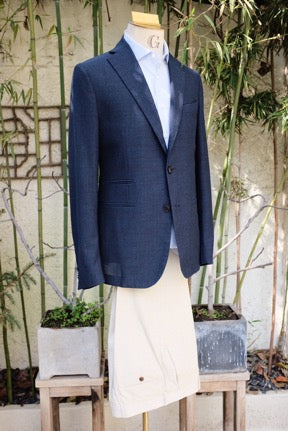 俗话说,"少买,买最好"。我们发现英国的纺织厂提供很好的布料,这些布料很耐用,而且随着时间的推移,它们的包浆很好。一般来说,与柔软的意大利面料相比,手的感觉可能首先会显得粗糙,但我们认为这将确保更好的悬垂性和更宽容。在许多年里,在任何场合,它都会站在你这边。