The Classics. 
Let's be honest, in our ten years of experience in tailoring we have been asked mostly for classic versatile suits in navy blue, mid-grey, and dark grey. It is only normal though, because when well cut and in the right fabric, these are what look best in most situations. A classic suit can be the most hassle-free garment you can own, that can mix and match with the rest of your wardrobe on any day and any occasion whether it be a business meeting, wedding, night out, etc...  
Making this well is not always easy, but we have the experience. We have decided to start with this task for our first drop on out Made To Order shop online.   
We have selected two elegant jacket block patterns with natural shoulders, high armholes, and a comfortable waistline that will please the largest number of you. There will also be two block patterns to choose from for trousers; a comfort fit with a front pleat plus higher waistband, and a trim fit without pleat and slightly narrower leg cut. You can learn more about these block patterns on the Fit Guide page on the site (click here). 
We are presenting these jacket and trouser fits to pair confidently with the choice of three of the most requested 4-seasons suit fabrics we have used in our tailor shop in the past ten years.  
Here is a formal presentation of those winners: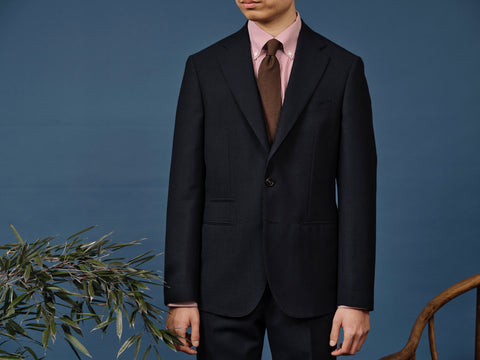 Fresco 2 Ply is nicknamed "the ultimate travel suit". It is a high twist pure wool fabric made in England by Hardy Minis mill since the 19th century. It has proven itself during all these years as a very performant cloth: durable, breathable and crease resistant. Its threads are twisted multiple times which create a very British dry and stiff hand-feel which is the price to pay for a formidable drape. This is also why we recommend to order it with the soft comfort fit jacket and comfort pleated trousers pattern options.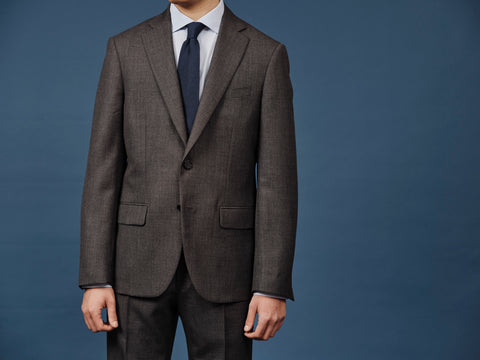 Dugdale's Fine New Worsted range shares some similar attributes with Fresco above: hard wearing, breathable and with crease recovery. It is slightly lighter and has a smoother touch which may position it as the most versatile cloth of this selection. The colors of this fabric are matte, and the jacket and trousers also work well as separates for the office or formal events.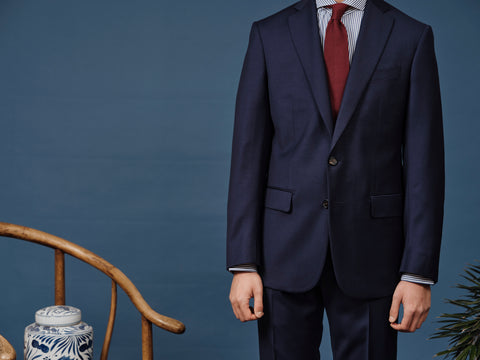 Chelsea is one of the bestselling quality of Huddersfield Fine Worsted mill. This is a four-season 270g twill, woven with S120's yarns with a luxuriously smooth feel. 

Based in West Yorkshire, Huddersfield Fine Worsteds is an internationally renowned fabric manufacturer supplying the world's biggest design houses and most prestigious tailors with superior and selectively-sourced fabrics. Combining innovation in their designs, and tradition in their outlook, HFW is the epitome of British elegance with global appeal.

 
We offer these three suit fabrics on the site with simple, straight forward designs, double vents, notch lapels…etc If you wish to personalize your suit further, please feel free to contact us via email: sh@germain-tailors.com